If ever there was a country that made the most use possible out of vending machines it is Japan.
In Japan vending machines are incredibly popular. What else would you call it when the country has a vending machine for every 23 people?
And the problems with owning these machines are basically few and far between. Vandalism, theft and graffiti are not problems like they are in North America. Sure you could attribute that to the fact that these machines are everywhere, but a better explanation would be the fact that everyone uses them.
We have talked about the importance of placing these machines in high traffic areas. In Japan, almost every area is high traffic because walking and riding a bike are a way of life there. As a result they are used constantly. Plus we are speaking of a country with very little free space. Vending machines allow for shipping in a very small area.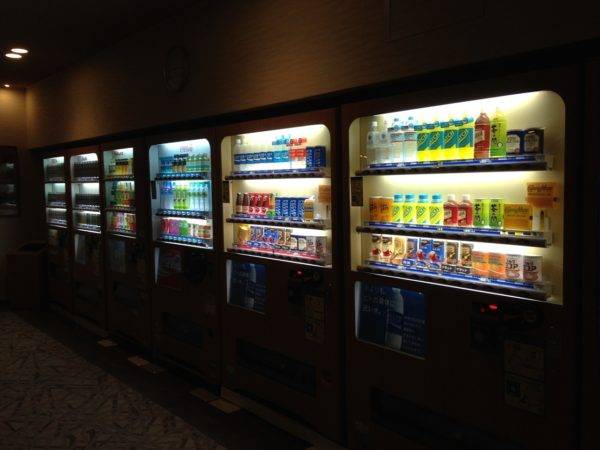 Japan and vending machines have a very long history. It was over a century ago when the first machines gave out postcards and stamps. Those old machines were wooden. Then about 80 years ago the machines started to sell candy and other sweets. But in 1967 things really took off. That's when the country introduced the 100 yen coin. That was the only boost the vending machine industry needed. The statistics bear out the fact that now they are more popular than ever. Just take a look at this number. $53,028,000,000. That's how much money was generated from vending machines in 1998. If you have trouble with large numbers, that's over 53-billion dollars coming from over 5.5 million machines in the country. No other country comes close. Read Further..
If you want something in Japan, chances are it can be found in a machine. Yes there are the typical items like soda, snacks and cigarettes. But imagine buying liquor or beer from a vending machine. How about tins of kerosene. Go to a public bathroom and your toilet paper comes from a vending machines. If you go to a store, you can charge your phone and a vending machine while you are busy shopping. Just lock it into place and when you're finished and return, your phone has a full charge.
What else can you get? How about CDs, DVSs, balloons and batteries. Need some fresh produce like eggs and vegetables? Put your money in the slot and it's yours. Take your blood pressure, your picture, or even print a photo you snapped with your cell phone. It's all possible with Japanese vending machines.
And naturally, since these machines are part of the lifestyle of Japan, improvements are constantly being offered. There is now a card that you have to use if you plan on buying cigarettes. Tobacco cards, as they are called, are stocked with information that gives your age. In other words, you can not purchase cigarettes without the card showing you are old enough. Naturally this will curtail the underage people from buying.
Look for more innovations out of Japan in the vending machine industry soon.